120 Years of Daiichi Chuo Kisen

Besshi Mine Smelting Works in
Shisakajima
Daiichi Chuo Kisen Kaisha is a company which was established in October.1,1960, with merger between The First Shipping Co., Ltd and Chuo Kisen Kaisha.
Each of two companies has long histories. Especially, those of Chuo Kisen Kaisha could go back to times of Sumitomo Bessi Mine.
The Sumitomo family developed the Bessi Copper Mine in the Edo period. And this mine had carried cargoes and employees necessary for operation of the copper mine with owned and chartered vessels.
After that, they opened the Onomichi branch with the start of Sanyo railway.
Further, they put thier owned vessel "Miyoshima Maru" into service between Niihama and Onomichi in February, 1892 and starting to carry not only their own , but also third-parties' cargoes and passengers.( This is the origins of Daiichi Chuo Kisen Kaisha)
The Bessi Copper Mine was renamed Bessi Mine, and through further renaming and Merger, Sumitomo Mining was formed. And in 1942, the predecessor of Chuo Kisen, Chuo Kisen Unko, was started up with investment from 13 companies including the shipping division at Sumitomo Mining at the core. In 1946, Renamed Chuo Kisen, it was positioned as the principal shipping company in the Sumitomo lineage as business expanded at all Sumitomo companies.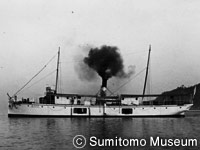 Kizugawa Maru
The First shipping Co.,Ltd, on the other hand, traces its origins back to Kaiyo Kisen, which was named after the birth place of two founders, was established in 1933. Soon after its establishment, Kaiyo Kisen commissioned ocean-going ships in the 10,000DWT class, larger-scale in those days. The business gradually expanded, surmounting the painful experience of having ships requisitioned by the Japanese government due to the ourtbreak of World War II. Renamed The First Shipping Co., Ltd, the company secured its position in tramp services.
These two historic companies, The Firsts Shipping Co., Ltd, the tramp service company, and Chuo Kisen with its Sumitomo lineage-industrial carriers, since the merger in 1960, as the only tramp services company combining the unique ocean-going and domestic shipping of the Sumitomo lineage, we have built up a solid track record supporting industrial development in Japan fundamentally through maritime cargo trapsport.
Daiichi Chuo Kisen Kaisha will continue to develop further, refining safe and trustworthy maritime transport systems while responding to the needs of customers.