Business Activities
Panamax / Handymax Size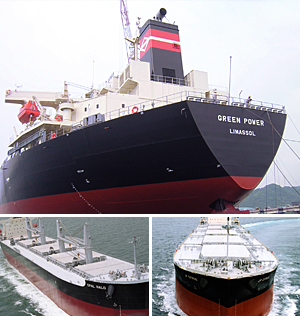 Our Tramper Service operates vessels from 50,000 up to 100,000 DWT and has two specific
The first is on the carriage of coal by 70,000 to 100,000 DWT class Panamax / Post Panamax bulk carriers servicing our electric power company customers, both in Japan and overseas. The second focus is servicing customers for the transport of other commodities such as coal, iron ore, nickel ore, bauxite and salt within Southeast Asia, India, Australia and the Pacific regions with both Panamax and 50,000 to 60,000 DWT Supramax-type bulk carriers.
In 1996 we set up Daiichi Chuo Shipping (Singapore) Pte. Ltd (DCSP) to provide increased opportunities to expand the services for our fleet of Panamax and Supramax vessel's and to build on existing and create new relationships that developed from the growing demand from customers within Indian region and the Southeast Asia.
Building on the experiences and network developed over the years by DCSP, we intend to expand our regional presence in the future by introducing other vessel sizes in the near future. Furthermore, we are aiming to expand our shipping activities to the Atlantic region in addition to our traditional Asian operations to become a truly worldwide operation.
Route Map