Business Activities
Small Handy Size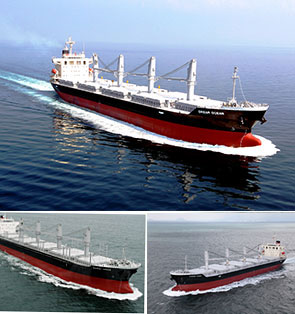 The versatility of the 20,000 to 40,000 DWT Small Handy Size bulk carriers sees them used in a wide variety of marine transportation roles.
We have allocated our 28,000 to 33,000 DWT fleet to carry steel products to the US Gulf since the old days and have handled transportation of mainly grain, fertilizers, nonferrous metal or goods, which is related to energy, in Atlantic Ocean mainly the Americas.
Thus we are able to respond timely to our customer needs for cargo to the Far East and South America.
Our fleet of 24,000 DWT vessels uses their High Freeboard design, which gives a bigger capacity compared to other conventional Small Handy vessels, mainly to carry large diameter steel pipes loaded in Japan and round logs and bagged rice loaded on the West Coast of North America for Japan. The transportation of bagged rice requires particularly strict quality management on board and we are able to maintain excellent conditions by installing cooling systems in the holds, gaining an excellent reputation from our customers.
For business in North and South America, which has a big time difference with Japan, our Daiichi Chuo Shipping (America) Inc (=DCAM), which we set up in 1970 in New York, is playing an active role.
Route Map